Meet Dr. John Klimediotis
Family Wellness in Park Ridge IL, Des Plaines
For almost two decades, area patients have felt fortunate to have their health needs attended to by Dr. John Klimediotis. He offers Natural Chiropractic Health, which combines the best of Professional Applied Kinesology, Clinical Blood Analysis, Functional Neurology and Nutritional Wellness
A Soccer Injury Changed His Path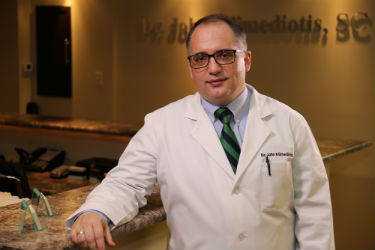 As a premed student at the University of Illinois and a semi-professional soccer player, Dr. John Klimediotis suffered a severe knee injury. Classical medicine couldn't help him with it, and he was sidelined from playing. He subsequently consulted with a chiropractor for help, who was able to return him to the playing field in record time. The chiropractor was the first one Dr. John Klimediotis had ever seen. "I was enamored with the techniques he used, and the quickness and accuracy of the healing that chiropractic provided. His causational approach was very appealing to me. I decided to do an about-face – and changed my career choice."
While obtaining his chiropractic education at the National University of Health Sciences, Dr. John Klimediotis experienced a devastating injury to his elbow from playing basketball. He was completely unable to extend the joint and had to endure six months of pain and dysfunction. He finally consulted with a chiropractor who became an important mentor in his future professional life – Dr. Dan Duffy, Sr., a specialist in Applied Kinesiology. Dr. Duffy was teaching a seminar in Chicago at that time. He invited Dr. John Klimediotis on stage to demonstrate elbow mechanics using Professional Applied Kinesiology. "After only one 20-minute treatment, the pain disappeared, and the joint regained its mobility." Nineteen years later, Dr. John Klimediotis' elbow remains problem-free.
A Love of Clinical Excellence
Dr. John Klimediotis is passionate about expanding his knowledge to help his patients recover as quickly as possible from pain, injury or functional issues ranging from autoimmune disorders and allergies to systemic problems related to the kidney, thyroid or digestive tract.
His postgraduate work has included certification in Applied Kinesiology, with board-eligible diplomate status. He has also immersed himself in an intensive study of Functional Neurology, and is a member of the following organizations:
International College of Applied Kinesiology
International Association of Functional Neurology and Rehabilitation (IAFNR)
Illinois Chiropractic Society
Carrick Institute of Neurology
An Active Family Life
Dr. John Klimediotis is married to Maria and the father of five young children. When he is not caring for his patients, he puts all of his energy into his family, enjoying biking, hiking and playing soccer. He also loves to read and further his knowledge of his craft.
If you or a loved one are experiencing a health challenge, you can count on our help. We have the tools and expertise to examine your problem and help you find the right solution. We look forward to helping you achieve health and wellness. Contact us today!


Dr. John Klimediotis | (847) 296-0505